We provide a wide range of Custom Lexan Polycarbonate Printing service including Custom Printed Lexan Labels, Lexan Stickers, Lexan Overlays, Lexan Panels, Lexan Nameplates and Membrane Switches Printing.
What is Lexan?
Lexan® is SABIC Innovative Plastics' registered trademark for polycarbonate film. Lexan PC is one of the most widely used plastics in the world.
Lexan Polycarbonate Characteristics
Flexible and durable.
Impressive impact resistance.
Temperature ranging from -40°F to 275°F (-40°C to 135°C).
Chemical and abrasion resistant.
Low level of flammability.
Exceptional clarity and light transmission.
Excellent electrical insulation.
Applications for Lexan Labels Stickers Overlays
Lexan is a good choice for many applications. Lexan labels normally used to make many high performance products including graphic overlays, nameplates, control panels, danger, warning and caution safety labels and high end labels for a wide range of industries as a major component like Electronic components, Communications equipment, Medical equipment, Automotive, aircraft, and security components, and so on.
In short, Lexan polycarbonate material is a hugely popular plastic with a wide range of applications.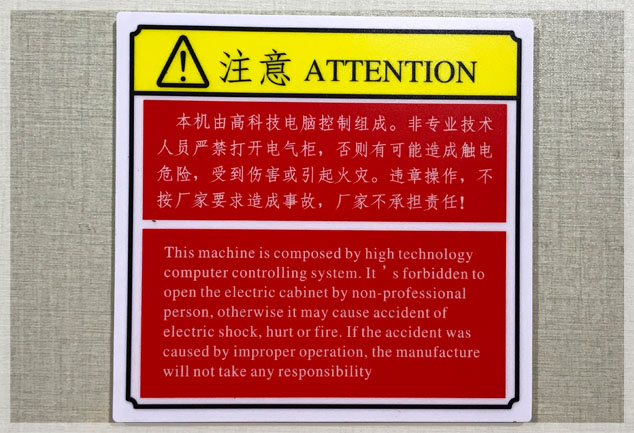 Types of Lexan Polycarbonate Material
Clear
Matte Velvet
Brushed
Black
Hard Coated
Thickness of Lexan Polycarbonate
There are also multiple thickness options for custom Lexan Labels.
Available in thickness ranging from .005″ to .030″ (0.127mm to 0.76mm).
How to make a Lexan Label?
The printing process is normally done on the underside of plastic to ensure durability. Sub-surface printed Lexan labels provide permanent protection to the graphics, they are chemical and abrasion resistant and UV impervious.
These custom made lexan labels are generally printed on Lexan with a high tac permanent adhesive applied after printing. Lexan Labels Stickers with 3M Adhesive coating that are custom made from premium quality polycarbonate.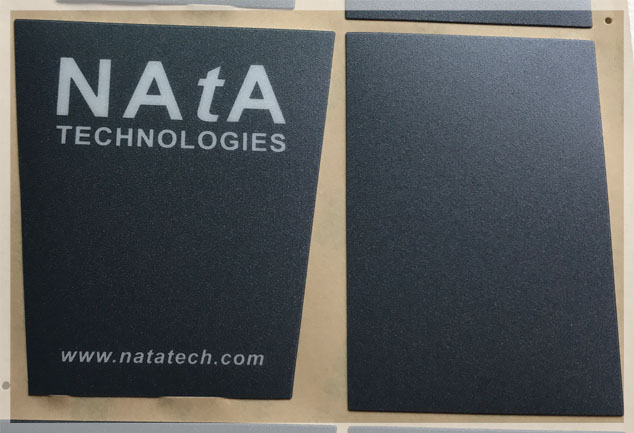 Lexan Labels Printing Process
Lexan labels are subsurface printed, predominantly spot color screen printed or full color digitally printed, but can be UV offset printed as well. PMS Color, CMYK full color printing plus white ink printing.
Digital Printed Lexan Labels
Screen Printed Lexan Labels
Full Color Printed Lexan Labels
Custom Lexan Labels Printing
We can manufacture the premium quality Lexan labels for your specific needs. Sometimes your product requires labels with certain durability or texture characteristics that only a good polycarbonate (Lexan®) can provide.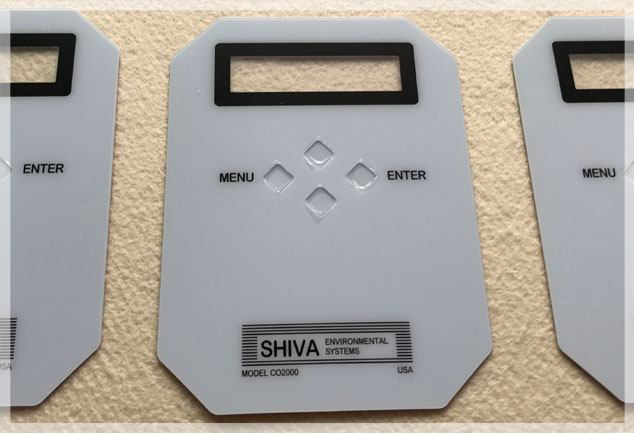 No minimum quantities. Small orders Prototyping acceptable.
Fast Turnaround 3-5 Working Days.
We offer affordable prototype and short-run orders.
Rapid Graphic Overlay Prototyping service.
We can do faster for urgent orders in 1 or 2 working days. Express turnaround times and specialist delivery options are also available at extra cost, please contact us for a quote.
Your Lexan Labels can be custom made to any size or shape.
We offer a wide variety of finishes including matte, glossy, brushed, tinted, adhesive-free windows, embossed buttons and were custom die cut.
Adhesive for Lexan Labels Stickers
A wide variety of premium 3M® brand adhesives is available to provide the optimum bond to your attachment surface, including 3M's line of high performance 3M 467MP, 3M 468MP, 3M 300LSE adhesives.
3M 467MP: Recommended for Smooth or Light Textured Surfaces.
3M 468MP: Recommended for Medium Textured to Rough Surfaces.
3M 300LSE: Recommended for Low Surface Energy Plastics or Polypropylenes.
Get a quote on your Custom Printed Lexan Labels, Stickers, Overlays
Please contact us for more information or request a free quick price of our custom lexan labels printing.