We provide a wide variety of printed cotton ribbons including 100% Cotton Herringbone Ribbon, Cotton Twill Ribbon, Flat Cotton Ribbon and 100% Polyester Cotton Ribbon.
Cotton ribbon with a woven texture, twill ribbon also called Twill Tape, Wave Cotton Ribbon, Herringbone Cotton Ribbon, Twill Cotton Ribbon, Cotton Herringbone Tape. The Cotton Twill Ribbons are very comfortable, and soft against the skin.
Application of Personalised Cotton Ribbon
This natural 100% cotton ribbon is an excellent all-purpose ribbon great for garments, clothing, packaging, promotional gift wrapping, wedding favor boxes, hair bows and many other fields.
Cotton Ribbon Types
100% Cotton Ribbon
Our Cotton Ribbon range includes Herringbone Cotton Ribbon and Standard Wave Flat Cotton Ribbon.
Made of 100% cotton.
The standard cotton ribbon colours are Off White / Natural White /Raw White, and Bleach White, Black. Available in 144 colors. We can dye the cotton ribbon in any colours.
Width of 100% Cotton Ribbon
Our Cotton Twill Ribbon are available in many different widths like 5mm, 10mm, 15mm, 20mm, 25mm, 30mm, 35mm, 40mm, 45mm, 50mm, 55mm and 60mm.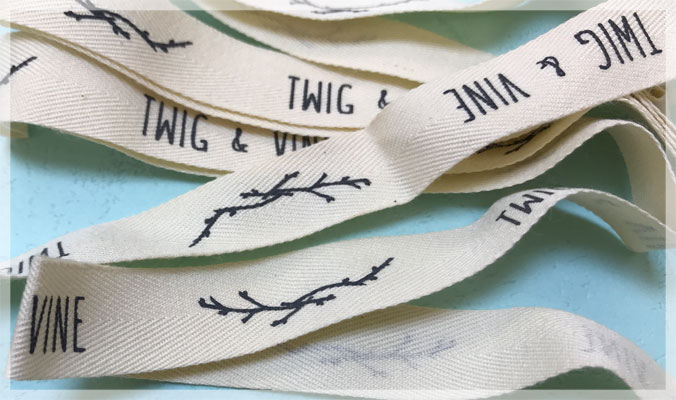 Polycotton(Polyester Cotton) Ribbon
Polyester Cotton Ribbon are made of 100% Polyester.
You can choose from 77 standard colours of Polycotton(Polyester Cotton) Ribbon.
Polyester Cotton Ribbon width available in 12 sizes: 1/8"(3mm), 1/4"(6mm), 3/8″(9mm), 1/2"(13mm), 5/8″(16mm), 3/4"(19mm), 7/8"(22mm), 1″(25mm), 1-1/8"(28mm), 1-1/4"(32mm), 1-1/2″(38mm), 2"(50mm).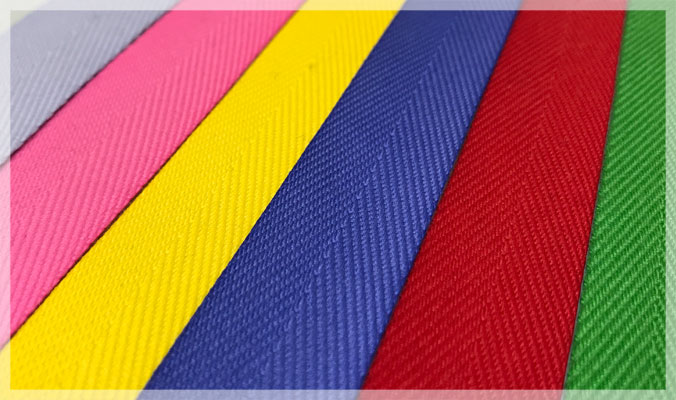 Length of Cotton Ribbon
Cotton twill ribbon is available in 100 yd rolls (91 Metres per roll).
Printing Type
We can do screen printing, foil printing and raised printing.
Screen printing is the best way to print the textured cotton ribbon.
Imprint Colours
PMS Colour, Gold, Silver, Glow in the Dark.
Pantone (PMS) Color Matching Service is available. We can match your logo to your exact PMS colour on our natural and white ribbons.
Personalized Cotton Ribbons can be custom printed in multiple colors.
Cotton ribbons are printed on 1 side only.
Please choose the ribbon colour on our colour charts and tell us the width you are after.
Custom Cotton Ribbon Printing
We are Personalised Cotton Tape Ribbon Manufacturers in China. 100% Natural Eco-Friendly Custom Printed Personalised Cotton Ribbon.
Our Bespoke Cotton Twill Tapes can be customized to include a company name, LOGO, or a message, designs or branding and are available in flat cotton ribbon or herringbone cotton ribbon.
Our printed ribbon is typically supplied in rolls but it can also be supplied in precut and heat sealed lengths. Make your gift wrapping effortlessly impactful by ordering your custom ribbon in pre-cut lengths.
Custom Printed Cotton Ribbon for Clothing, Garments
The cotton twill tape is super soft and suitable for clothing, which is ideal for garments, t-shirts, care labels, pillows, baby shower projects, kids wear etc.
Additional cotton ribbon cutting service
We can heat cut and seal your ribbon for you into various lengths and folded for clothing labels, care labels and garment labels.
Straight cut or angled cut available. These are woven edge and heat-sealed ends.
Ink
We use apparel grade, machine washable, dry cleanable, environment-friendly ink to print the cotton ribbon.
Proof
We will provide you with a proof before printing.
Lead time
Approximately 4-6 business days from proof approval.
Rush orders are available for an additional charge. If you have an urgent order please contact us now.
MOQ
To get a free quote, tell us the cotton ribbon width, color, quantity, imprint color and delivery information.
Contact us today for an instant quote or place an order on your custom printed cotton ribbons.