We provide Custom Printed Satin Ribbon, Personalized Satin Ribbon Printing, Single Faced Satin Ribbon, Double Sided Satin Ribbon, Polyester Satin Ribbon and Grosgrain Satin Ribbon.
Application for Custom Printed Satin Ribbon
Personalized Ribbons, also known as custom printed ribbon. Satin ribbon is the most popular type of ribbon, it is excellent for enhancing packaging, adding an additional high quality effect to products or gifts, advertising, promotion, special event recognition and many other occasions.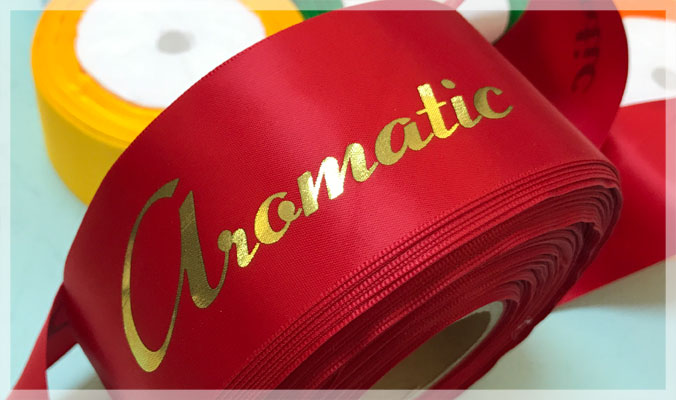 Personalized Printed Satin Ribbons are great for Gifts Wrapping, Jewelry Packaging, Commercial Advertising, Corporate Promotions, Business Packaging, Product Packaging, Branding, Marketing, Trade Show, Special Events, Schools, Sporting Clubs, Awareness Ribbons, Furniture, Toys, Crafts, Hair Accessory, Celebrations, Christening, Christmas, Birthday Parties, Holiday Wrapping & Decorating, Wedding and Anniversary decorating etc.
Satin Ribbon Types
We offer Satin Ribbons including Double Sided Woven Edge Polyester Satin Ribbon, Double Faced Satin Ribbon, Single Side Woven Edge Polyester Satin Ribbon, Single Face Satin Ribbon, Sticky Backed Satin Ribbon and Grosgrain Satin Ribbon.
Single Face Satin Polyester Ribbon
Single Faced Satin Ribbons are 100% polyester, with a silky satin smooth front and a matte finish on the other side with a stitched edge.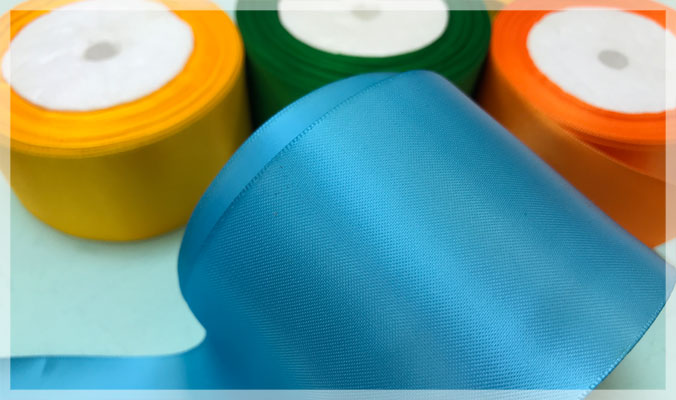 Double Face Satin Polyester Ribbon
The same high-quality polyester fabric ribbon as Single Face with a satin finish on both sides.
Double sided satin "shiny both sides", Double Sided Woven Edged Satin Ribbon offers the same silky texture on both sides.
Polyester Grosgrain Ribbon
A firm, durable polyester ribbon with a "ribbed" surface and stitched edge. Commonly used for Lanyards.
Satin Ribbon Widths
Our satin ribbons are 100% polyester, and come in several different sizes: 3/16″(5mm), 1/4″(6mm), 3/8″(9mm), 1/2″(13mm), 5/8″(16mm), 3/4″(19mm), 7/8″(22mm), 1″(25mm), 1-1/8″(28mm), 1-1/4″(32mm), 1-1/2″(38mm), 2″(50mm), 2-1/4″(57mm), 2-1/2″(63mm), 3″(75mm), 3-1/2″(89mm), 4″(100mm)
We can print any satin ribbon from 5mm to 100mm wide. Contact us for big size more than 100mm width.
Satin Ribbon Colors
You can choose from 196 standard colours of satin ribbon: Black, White, Off White, Cream, Grey, Pink, Hot Pink, Green, Light Green, Dark Green, Red, Dar Red, Orange, Yellow, Blue, Light Blue, Dark Blue, Purple, Gold, Silver, Navy, Chocolate, Lime and so on. Contact us for wide variety of satin ribbon base colors. Please choose the satin ribbon color on our color charts.
Satin Ribbon Printing Type
Satin ribbon printing is available in different methods such as Silk Screen Ink Printing, Foil Printing and Raised Printing.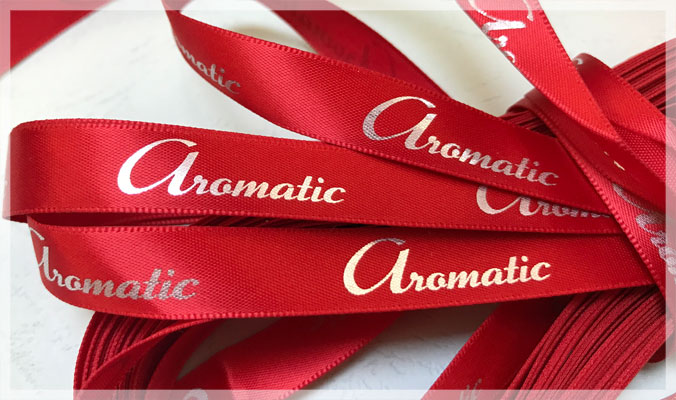 Custom Printed Satin Ribbon
We supply high quality Custom Printed Satin Ribbon. Our Personalized ribbon can be custom printed with specific message, QR code, company name and logo etc.
Our Custom Printed Satin Ribbon is available in a variety of styles, widths, and colors.
All of our customized satin ribbon printing can be custom made into many sizes, colors, and width according to your request.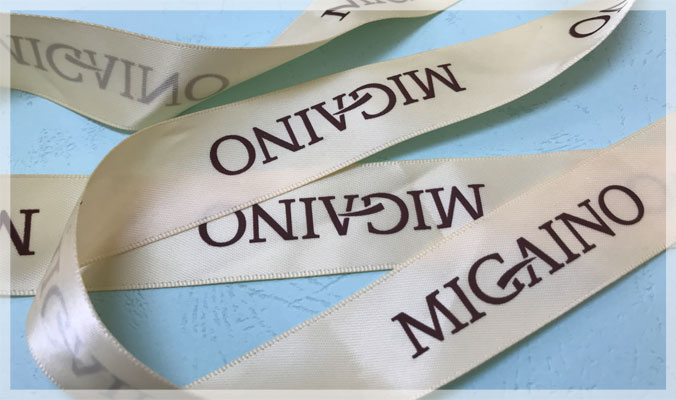 Printing Colors
Any Color, PMS Color, Gold and Silver Color, Foil Printing.
Finishing
On Roll, Sheet (Heat Cut, Laser Cut into Various Lengths), Folded(End Fold, Center Fold), Any shape(Straight, Swallow Tailed and Wave etc.).
Minimum Quantity
No Minimum Quantity. Short run small or large orders acceptable.
Turnaround Time: Fast turnaround 4-6 Working days after proof approval.
Contact us with your order requirements.
1. Satin Ribbon types.
2. Satin Ribbon color.
3. Satin Ribbon size/width.
4. Satin Ribbon imprint color.
5. Satin Ribbon Length/quantity.
6. Other special instructions regarding the satin ribbon like cutting, folding etc.
Please contact us for more information about custom printed satin ribbon.