China Printing Online supply Custom Printed Tyvek Wristbands, which can be custom designed for your event, music festivals, amusement parks, water parks and more.
Custom Imprinted Tyvek Wristbands are applied by simply pulling off a tab that exposes the adhesive behind the tyvek wristbands, then wrapping the band around the wrist to a comfortable fit. Uses a strong adhesive closure that will adjust to every size wrist. Security die cuts are integrated into the adhesive closure to prevent individuals from detaching and transferring the wristband.
We are professional tyvek wristbands printing manufacturer in China. Our Custom Printed Tyvek Paper Wristbands are good for short term, single day applications and one time use.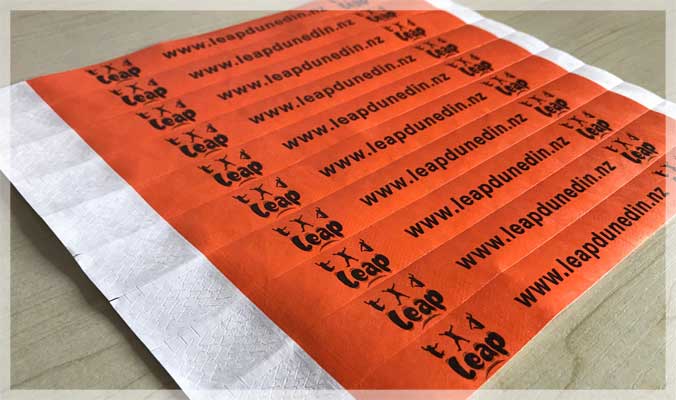 What is Tyvek?
Created by Dupont, it is a tough non-toxic water resistant fiber made from polyethylene.
Tyvek is tear-resistant, water-resistant, lightweight, expandable and recyclable.
Tyvek wristbands can be written on.
Custom Printed Tyvek Wristbands
Custom Printed Tyvek Wristbands are perfect for any short-term event, including Amusement Parks, Water Parks, Family Functions, Clubs, Hospitals, Schools and Promotional etc.
Tyvek Bracelets
1 Inch Tyvek Wristbands
3/4 Inch Tyvek Wristbands
Detachable Stub Tyvek Wristbands
Music Festival Tyvek Wristbands
Amusement Tyvek Wristbands
Numbered And Bar-Coded Tyvek Wristbands
Promotional Tyvek Wristbands
Seasonal Tyvek Wristbands
Security Tyvek Wristbands
One Time Use Tyvek Wristbands
Tear-off Tab Tyvek Wristbands
Theme Parks Tyvek Wristbands
Tyvek Amusement Parks Wristbands
Tyvek Waterpark Wristbands
Tyvek Bar Wristbands
VIP Tyvek Wristbands
Tyvek Club Wristbands
Tyvek Holiday Wristbands
Tyvek Hospital Wristbands
Tyvek ID Wristbands
Tyvek Medical Wristbands
Tyvek School Wristbands
Tyvek Sports Wristbands
Custom Printed Tyvek Wristbands Features
Tyvek can be printed with your message logo for additional security. It is a great material for wristbands as it is stretch resistant and can't be transferred from person to person.
Custom Printed Tyvek Wristbands are non-stretch, single use and tamper proof, waterproof, peel off adhesive.
Custom printed tyvek wristbands material: Tyvek 1056D.
Personalised Tyvek Wristbands Sizes
Custom Tyvek Wristbands are available in different sizes like 1″ x 10″ and 3/4″ x 10″. Or custom sizes according to client's request.
Custom Printed Tyvek Wristbands with Variable Data printing
Custom numbering, bar coding, QR Code, duplicate numbered and tear off stubs etc.
Pre-Printed Tyvek Wristbands Colors
1 to 4 color, full color printing. Special color like gold, silver, fluorescent inks.
Colors and designs can be made according to customers' demands.
Custom Printed Tyvek Wristbands Lead time
5-7 working days.
Please contact us for a free quote.